EssentOptics looks forward to meet you at our booth #3231 at coming SPIE's Photonics West 2020 show and demonstrate our PHOTON RT spectrophotometer - the most advanced metrology instrument for coaters.

This time we have prepared an amazing product configuration which is powered with the latest features developed by our engineers: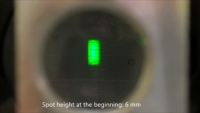 Automatic change of spot size on the sample - a truly unique feature
Unattended measurement of polarizing cubes, X-Cubes and
complex cemented prisms at normal and variable AOI's
Choice of motorized and auto-detect sample stages for multiple samples,
XY mapping, measurement at extreme 85 deg AOI and even with 360 deg sample rotation!
The instrument will be shown with the unsurpassed 185-5200 nm wavelength range. Our booth staff will be happy to explain our new achievements, guide you through products features and applications, and measure samples with you. We encourage you to bring your samples and see the product in action!

Please stop by our booth #3231 and learn how you can hone your measurement skills with our instruments.

BEST engineers use BEST instruments!